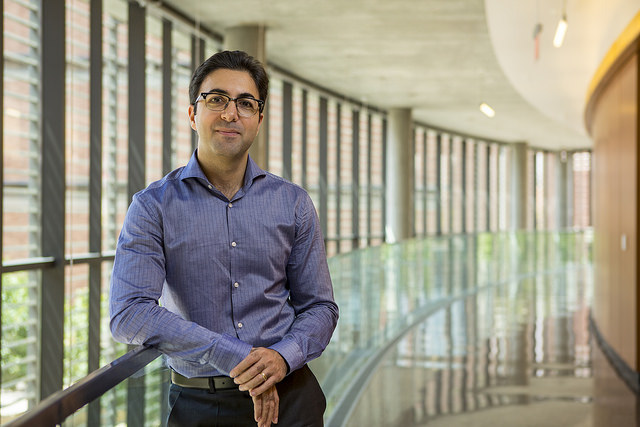 New center could solve challenges of preparing for disasters
Assistant Professor Mahyar Eftekhar wants to bring top minds in humanitarian logistics together to study life-and-death situations.
An increase in the scale and frequency of natural and man-made disasters in recent years means that the challenges of humanitarian operations have magnified. "Every week you hear about another heart-breaking disaster somewhere in the world — a terrorist attack, political conflict, or hunger," explains Assistant Professor of Supply Chain Management Mahyar Eftekhar, whose research focuses on humanitarian logistics.
These disasters' magnitude uncovers the need for predicting their occurrence and coordinating relief operations, Eftekhar adds. "Disaster response is 80 percent logistics, and yet designing effective and efficient humanitarian operations is not a simple task. In commercial logistics, we usually know the routines.
In humanitarian logistics, you don't know where the next disaster will occur and what will be needed, and in what quantity. Then there is the issue of time — it's the difference between life and death." "Research in this field is application-driven," Eftekhar continues. "You can't invent a humanitarian logistics question in your office. It's all based on field operations and must come from a critical situation.
For example, fleet management in the humanitarian context is not limited to delivering services faster: The Office of the United Nations High Commissioner for Refugees found that better vehicle management could save about $60 million per year. This money could be effectively channeled to humanitarian actions." "Humanitarian logistics show the heart of the business school," Eftekhar says. His goal is to launch a center at the W. P. Carey School of Business for humanitarian logistics that would bring practitioners from around the world together to study these life-and-death situations.
In addition to helping people, solving logistics challenges in disasters can help businesses. "After all," Eftekhar explains, "if we answer the complex questions in humanitarian logistics, we can apply those solutions to the normal supply chain, too."