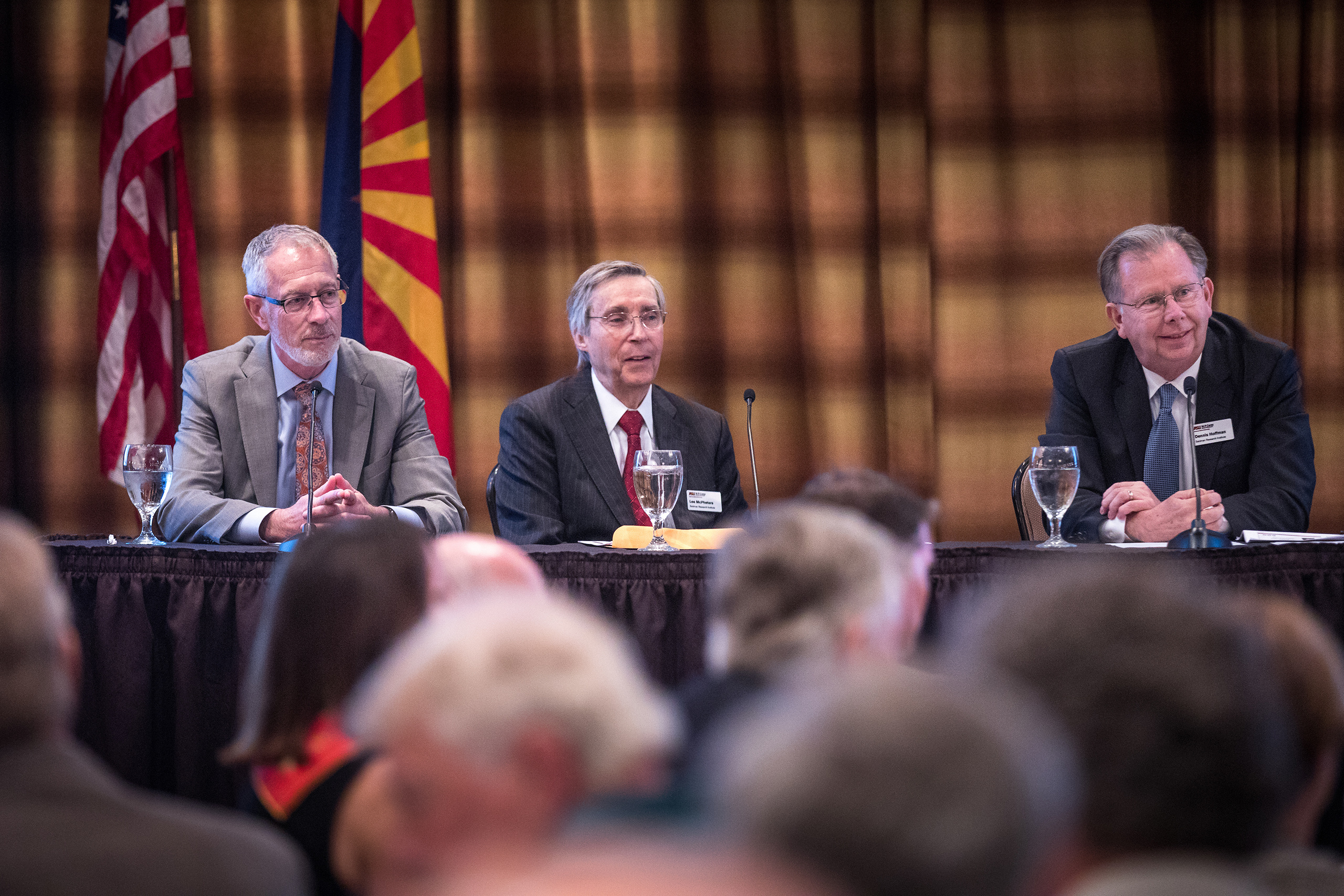 Annual Economic Outlook: Rosy and no recession in sight
What's next for Arizona's economy? Will the stock market continue its record climb, and what impact can national trends and policies have here at home? Hear from experts.
Find out what's in store for the economy, hear about the state's population growth, and get a first glance at the Arizona outlook for 2019 at the 12th annual Economic Outlook Luncheon, sponsored by the Economic Club of Phoenix.
The event features Director of the L. William Seidman Research Institute Dennis Hoffman, Director of the JPMorgan Chase Economic Outlook Center Lee McPheters, and Director of the Master of Real Estate Development program Mark Stapp, who is the Fred E. Taylor Professor in Real Estate.
rder="0" marginwidth="0" marginheight="0" scrolling="no" style="border:1px solid #CCC; border-width:1px; margin-bottom:5px; max-width: 100%;" allowfullscreen>
Read the 2018 outlook
Over the last decade, experts at the W. P. Carey School of Business have been weighing in on the state and national economy at the annual Economic Outlook Luncheon sponsored by the Economic Club of Phoenix.
On May 3, 2018, the conversation continued with updates presented by Director of the L. William Seidman Research Institute Dennis Hoffman, Director of the JPMorgan Chase Economic Outlook Center Lee McPheters, and Director of the Master of Real Estate Development program Mark Stapp.
The consensus? No recession is in sight for the United States or for Arizona.
"You'd be hard-pressed to find an indicator of the national economy that is pointing anywhere except up," says Hoffman. "This has been true for the last several years, but certainly most recently."
In line with the nation, Arizona's economy continues to steadily expand, a climb that began nearly eight years ago and which will continue into 2019 with significant increases in employment opportunities, population, and homeownership.
"The economy is strong and stable, and we're optimistic about the next couple of years at least," says McPheters. "Arizona is in an expansionary mode right now, and the consensus of the Blue Chip panel of 50 leading economists projects the probability of recession at 15 percent this year, and between 20 and 30 percent in 2019. "In other words, there's no recession in sight for the U.S. economy, and Arizona is going to follow that business cycle."
The indicators for personal income, job growth, population, and single-family homes have all improved and will continue to, the experts say. Non-farm employment is forecasted at 3 percent next year, a figure the state hasn't seen since 2006.
Employment tops the charts
On the national level, employment is at an all-time high. "It's been a great ride for the better part of the last 10 years in terms of employee growth," Hoffman says. "This is not a jobless recovery. It began in 2010, and it's continued relentlessly to the present day, and there's no signs of an end in adding approximately 200,000 jobs a month nationally."
Job growth is highest in the west and southwest regions of the country. Arizona is among the top 10 states for job creation, ranking fifth after Washington, Utah, Nevada and, number one in the nation, Idaho.
In the first quarter of 2018, new jobs in Arizona increased by 2.4 percent, with peak growth in Phoenix where more than 60,000 jobs were added. That amounts to 92 percent of new jobs statewide.
The leading growth industries include construction, finance, manufacturing and health care — all among the top ten growth industries overall in the United States.
Last year, Arizona added 63,890 new jobs, most in the health care sector. Construction added 10,000, its highest number since the boom of 2006. Financial jobs increased by 9,100, making Arizona's growth rate in this industry first in the nation for the second straight year.
"The big rap against Arizona in past expansions was that they weren't diverse, multi-industry types of expansion," McPheters says. "I think that is incorrect in this expansion. Look at the number of new jobs: The biggest source of new jobs is health care; the second is construction. Construction is finally back." Job growth in finance is also high, an industry, he pointed out, that is adding higher-paying positions to the state's workforce.
Despite the significant increase in new jobs, Arizona's unemployment rate still ranks among the highest in the nation, at 4.9 percent — the same as Nevada and just behind Alaska — according to the U.S. Bureau of Labor Statistics.
The population is growing
The U.S. population has steadily grown over the past decade and Arizona is a leader among the top 10 states for fastest population growth, ranking sixth in 2017.
It is also the fifth top destination for people moving out of other states, succeeding only Florida, Texas, North Carolina, and Washington. "That means when people decide that they're going to leave the state they're in," McPheters explains, "Arizona is the fifth most often selected destination."
Phoenix is the hot spot
The surge of new jobs in Phoenix is attracting an influx of new residents, proven by Maricopa County's explosive growth. The county topped counties across the United States in population growth, adding nearly 202 residents every day in 2017 for a total of 73,650. The highest percentage moved to Maricopa County from other areas of Arizona, as well as California, Texas, and foreign countries, including Asia. What's more, the income and education level of those moving in are higher than those who are moving out, making Phoenix a strong economic development area, McPheters says.
"It's a very strong outlook," he adds, saying that the labor force, quality of life, and cost structure is what keeps Arizona's economy strong and growing.
Mark Stapp, director of the Center for Real Estate Theory and Practice agreed that the Metro Phoenix area's desirability as a place to live is key to the state's continued economic growth. "We have to support the arts and education, as that is what is going to help drive more economic expansion," he says.
Arizona's commercial real estate economy is "as good" as the local and national economies, with the industrial sector at the forefront. The overall feeling about the commercial real estate market among hundreds of real estate brokers recently surveyed is optimistic, Stapp reports.
However, vacancy rates in the office and industrial sectors are going up because the tenant profile has changed. Employers are doing different kinds of work, such as e-commerce and high-end manufacturing, and using more skilled and more highly paid labor. These factors dictate a different type of workspace.
"A lot of old space doesn't suit their needs, which is why there's a lot of obsolete product and we've got to build new," Stapp says.
The future opening of the South Mountain freeway will likely have a big impact on the economy in terms of employment and industrial activities.
In the retail sector, there remains much uncertainty, with more and more companies filing for bankruptcy. Also, while the emphasis was once on anchor stores, it has shifted to food and beverage establishments, and consumers' shopping habits have changed.
Despite the evolving market, some industry insiders believe that there may be a "renaissance" in retail because people are looking for quality. "There are certain things we can't get through Amazon Prime," Stapp says, "and certain things we can't get on the internet. So we're going to seek quality places and quality experiences."
In other areas of commercial real estate, land sales are strong ($700 million year to date), and the housing market continues to perform well. Single-family home prices, however, are likely to rise at a much faster pace than wages, and demand continues to outpace supply.
"Single family is slowly improving," Stapp reports, though affordability is a challenge. "There are a number of systemic issues we have to face in order for that segment of the economy to continue to improve to the point we can get more affordable housing." Tax laws and wage increases are among them.
The apartment market is very strong, and there has been new expansion to the west and southeast.
What does the future hold?
Looking ahead, Hoffman says, optimism prevails on the national front. "If you ask businesses with different numbers of employees, they tend to be optimistic. Small business has become euphoric."
He cites inflation, climate change challenges, debt and entitlement, wealth inequality, and trade war as some areas of concern in the future of the national economy. "Free trade gives American employees access to literally billions of consumers, and it gives consumers access to more choices at cheaper costs," he explains. "Everyone benefits from a healthier economy that lifts people out of poverty and gives them a clear path to prosperity."
In Arizona, some issues that need to be addressed, McPheters says, are education funding, high poverty rates, and infrastructure needs to support the population growth. Even considering these factors, however, he says, "there is no recession in sight."
12th Annual Economic Confidence Quiz
Research Professor Lee McPheters challenged guests at the annual Economic Outlook Luncheon, sponsored by the Economic Club of Phoenix, to answer a set of questions about what's driving the Arizona economy. Now it's your turn to test.
Top photo: Mark Stapp, left, Lee McPheters, and Dennis Hoffman, right, listen to a question from an audience member at the annual Economic Outlook Luncheon, put on by the Economic Club of Phoenix on Thursday, May 3, 2018, at The Scottsdale Resort at McCormick Ranch. Photo by Charlie Leight/ASU Now