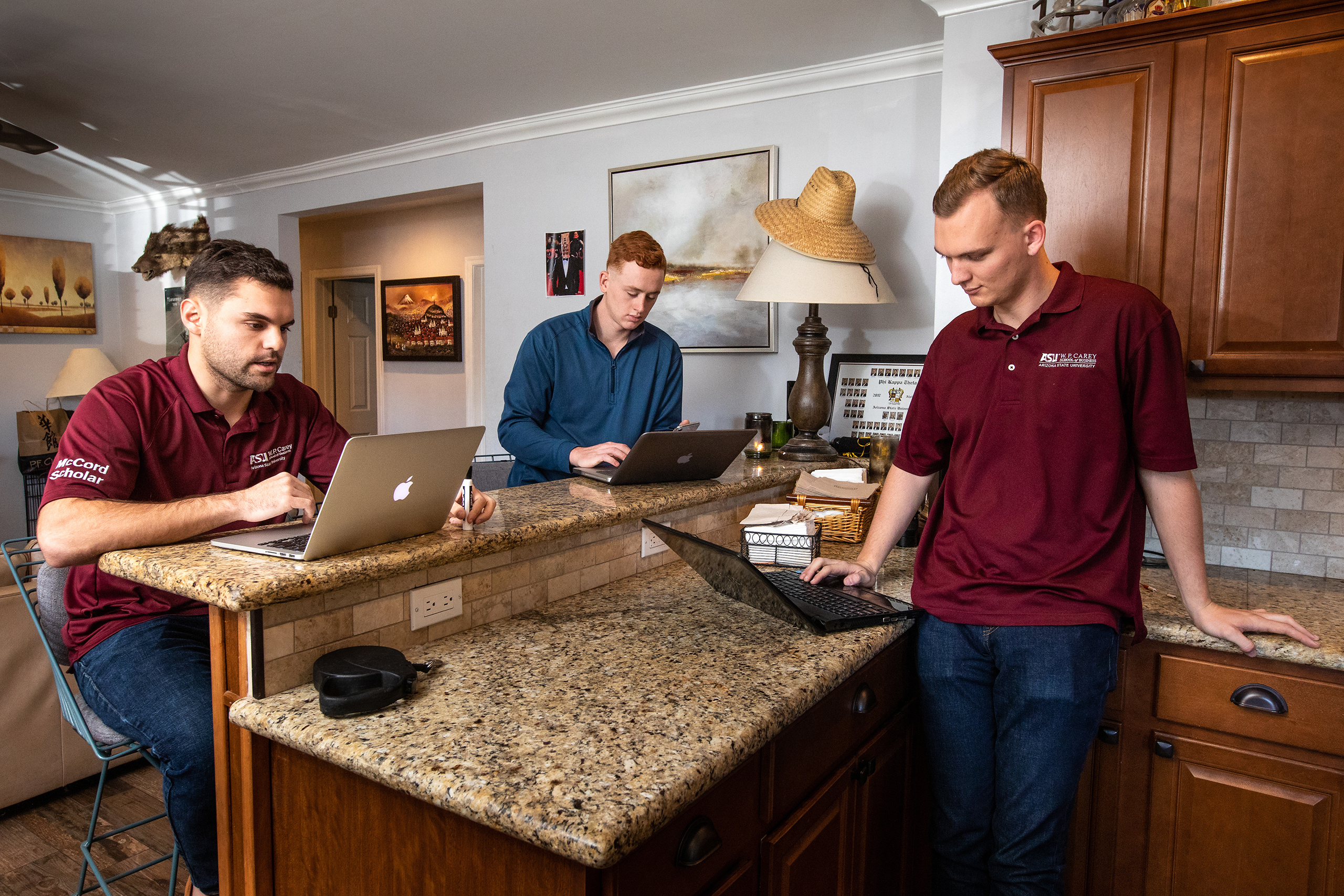 Triple threat: When one major just isn't enough
Trio of roommates are among the 39 ASU students tackling triple majors — for them, competition and value are their why
By Mary Beth Faller
Earning a college degree can be a crucial step toward life success. But some Arizona State University students want more — they are earning three degrees at one time.
Pursuing a triple major takes a lot of hard work and intricate planning, and not many students take on the challenge. There are 39 of them right now.
For three ASU students who are roommates, competition prompted them to take on three degrees, but it's their friendship that is sustaining them on the demanding path. Tristan Gaynor, George Heiler, and Kevin Murphy are all pursuing bachelor of science degrees in finance and supply chain management. Their third majors are computer information systems for Heiler, business data analytics for Murphy, and management for Gaynor. Heiler and Murphy also have minors in real estate.
The seniors, who have known each since eighth grade, all went to Veritas Prep in Phoenix and enrolled in the finance major at ASU, where they are in Barrett, The Honors College. When they realized they could add a second major in their sophomore year, they jumped aboard.
They admit to some rivalry.
"There was a little bit of one-upmanship," Heiler says.
Gaynor agreed. "One hundred percent."
But living together has helped with the load.
"At least once a semester, you forget a huge assignment, but when you're living with two guys who have the same degree, that happens less often," Murphy says.
"We would meet together in the living room and figure out our plan for the week and help each other with our homework."
The why behind tripling up
The number of students who pursue three concurrent degrees — the official university description of a triple major — has been fairly steady at around 40 per year for the past few years. That's about one-tenth of 1 percent of ASU students. About 1,800 students are enrolled in two degree programs this year.
Students do it for many reasons. Value is one motive.
"It feels like we're getting our money's worth because there's zero additional cost, and we figured we may as well have a pretty full schedule if we can handle it," Heiler says.
But the value of earning multiple degrees goes beyond cost.
"We are unable to predict what the workplace of the future will look like, and today's students need to be prepared for an ever-changing professional environment," says Frederick Corey, vice provost for undergraduate education. "When students pursue multiple majors, minors, and certificates, they're diversifying their competencies and the base of their knowledge."
Many students who go for multiple degrees come into ASU with credits earned in high school, whether through Advanced Placement, International Baccalaureate or Cambridge exams, or through dual-enrollment classes with the community colleges. Heiler and Murphy earned a few credits through the College Level Examination Program.
Still, multiple degrees require a heavy credit load. Murphy, Gaynor, and Heiler have had semesters where they've taken 24 credits.
"I found the groove," Heiler says. "A lot of kids get to college and want to binge-watch five TV shows. I still have free time. I make sure I'm getting to class and getting things done. You have to use your time wisely."
"I found that when I have more to do, my productivity skyrockets," says Gaynor, who was a Tillman Scholar and a McCord Scholar.
All three of the roommates are in Barrett, The Honors College, have had multiple internships, participated in W. P. Carey School of Business activities, and held jobs.
W. P. Carey School of Business seniors and triple majors (from left) Tristan Gaynor, Kevin Murphy, and George Heiler. Photo by Charlie Leight/ASU Now
So you want to triple major
Here is some advice for taking on three concurrent degree courses from the trio of triple majors:
Plan your courses carefully. "ASU gives you everything you need to make your own schedule perfectly, with the DARS report and major maps," Heiler says of the Degree Audit Reporting System dashboard. "We try to get into the same classes together, but we check with the advisers to make sure we're on track."
Get to know professors and classmates. "We had a professor, Chris Neck, who was a huge influence on us," Gaynor says. "He's written recommendation letters, gotten us jobs. We helped him write a chapter for his textbook. It makes a huge difference."
Don't overdo it. "We prioritize sleep, even with triple majors," Murphy says. "None of us has had to pull an all-nighter."




Top photo: W. P. Carey School of Business seniors Tristan Gaynor, left, George Heiler, and Kevin Murphy, right, relax at their Tempe home before classes Friday, Jan. 18, 2019. The three will be graduating in May, each with triple majors. They will have degrees in supply chain management and finance, with Heiler adding computer information systems; Gaynor adds management; and Murphy adds business data analytics. Photo by Charlie Leight/ASU Now