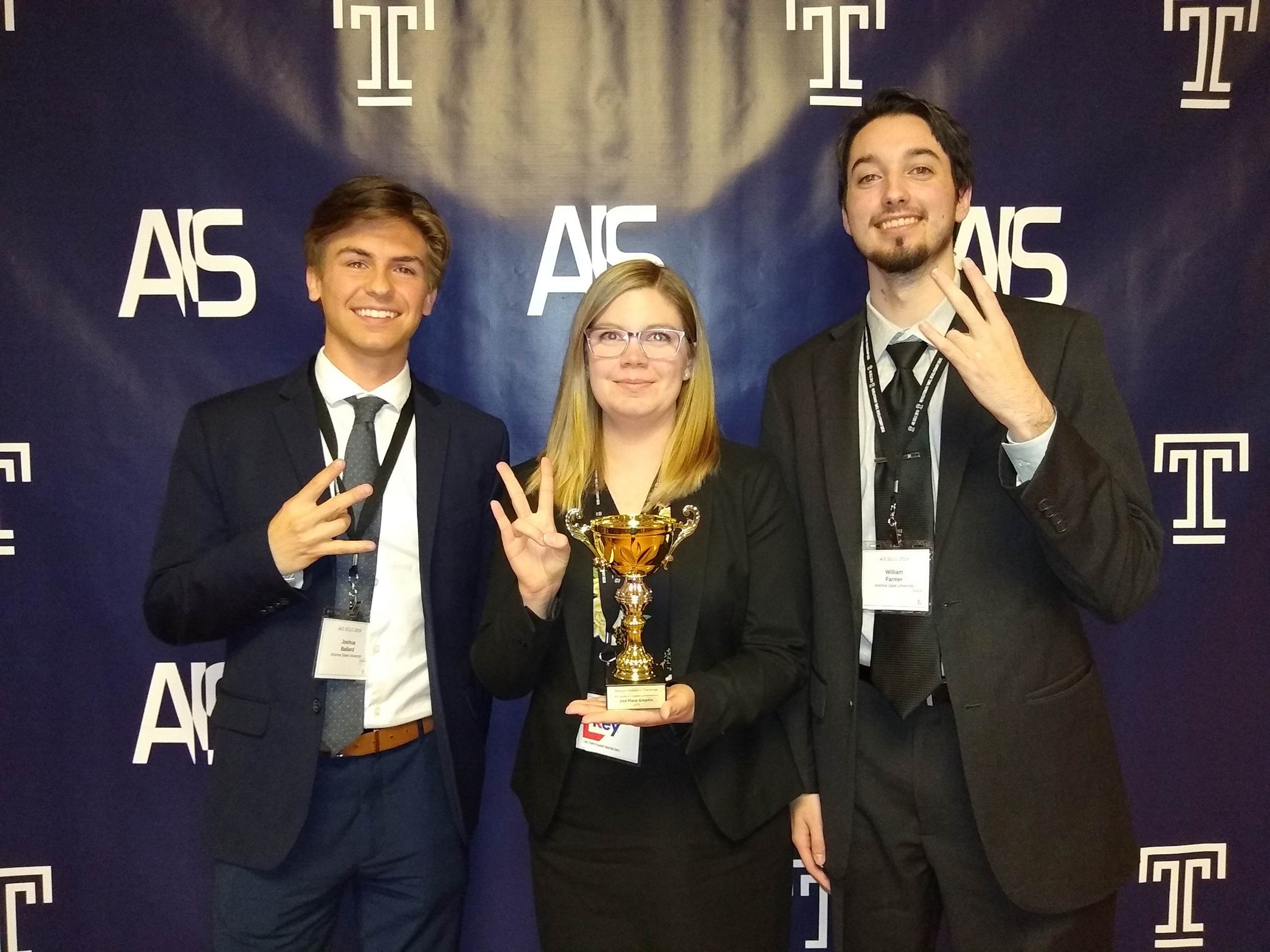 What you may not know about esports that students discovered
How can media companies adapt to competitive video gaming to remain a leading engagement and delivery platform for sports entertainment? Information systems students Joshua Ballard, Jessica Sheldon, William Farmer have the winning answers.
While traditional professional league sports such as the NFL, NBA, MLB, and NHL have been largely watched on live television, there has been a significant shift to viewing esports on connected TVs and mobile-connected devices. The world of competitive, organized video gaming is estimated to have nearly seven billion hours of such consumption in 2018 on digital platforms such as Amazon's Twitch and Google's YouTube, according to Statistica.
So how can media companies such as those powered by the NBC Sports Group adapt to these trends to ensure they remain a leading engagement and delivery platform for sports entertainment?
That is the question Joshua Ballard (business data analytics student), Jessica Sheldon (computer information systems student), and William Farmer (business data analytics student) answered for the Alexion Analytics Challenge sponsored by the Institute for Business Information Technology at Temple University. They earned second place at the Association for Information Systems Student Chapter Leadership Conference in Philadelphia on April 11-13. Out of 42 entries, 10 teams were selected to present at the conference as finalists, and six of 10 won awards.
"They came home with a trophy and a $1,000 cash prize for their hard work presenting to a panel of industry leaders, illustrating their key findings in a graphic, and analyzing the big question," explains Student Services Coordinator Jessica Wu.
Since it was the first competition for the student trio, Clinical Assistant Professor of Information Systems Andres Diaz Lopez met with them when they began the project to talk about how competitions work.
"We first had to look at the data that was provided from the competition and analyze it," explains Farmer. "From our findings, we discovered that there was a widening age gap between traditional sports live viewership and esports live viewership. In addition, women viewers of esports are watching one to four hours of esports 65% of the time compared to men who watch one to four hours of esports 55% of the time. Although men consisted of 85% of the total esports viewership market, the 15% of female viewership is a growing market."
Diaz Lopez worked also with the students throughout the competition process, including suggesting different ways to look at the data, giving feedback on how to visualize the findings, and traveling to Philadelphia with them for the conference. "I admire how Professor Diaz Lopez approaches teaching and mentoring with his students. In our circumstance, it meant he was very disciplined in his advice and would only give ideas as far as the competition allowed — the rest was up to us and how we wanted to approach the topic," says Sheldon.
The Department of Information Systems Club (DISC) and Department of Information Systems allowed time for the students to share their presentation during two meetings, which was key for the team in preparing for the final round in Philadelphia.
"We answered the question by explaining that advertisers should focus their advertisements more on the emerging female demographic and that there is an addressable widening age gap between viewers of traditional sports and esports," Ballard says. "Our recommendation included how advertisers can best connect with this target market and six industries that advertisers could transfer from traditional sports into esports to resonate with viewers."
"There is also an opportunity for NBC Universal to sponsor esports events moving forward, Sheldon says.
"Media companies can't copy and paste their advertising strategies from traditional sports to esports," adds Sheldon. "Rather, they need to more deeply understand differing demographics and adjust their strategies. We gave a five-point recommended plan, as well as next steps for further research."
Students interested in participating in future case competitions should contact the incoming DISC VP of Instruction William Farmer (instruction.asudisc@gmail.com). At the start of the fall 2019 academic year, Farmer will put together teams and get them involved in different competitions where they can put their CIS and BDA skills into practice and have the opportunity to win prizes, represent ASU, and add a special accomplishment to their resumes.
Ballard, Sheldon, and Farmer all say to go for it and not to hesitate to enter a case competition because, "At the very least, you are going to learn new skills and strengthen the ones you currently have," Farmer says.
"Be sure to start early and collaborate weekly with your team leading up to the event," advises Ballard. "Designating a set schedule where everyone can meet in the beginning will be a challenge but worth it in the end."