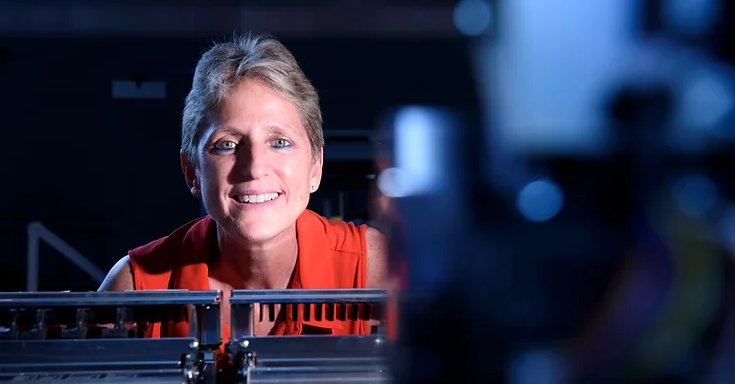 Lab Lessons: Latham Industries CEO shares SMB Lab takeaways
Tracey Latham says the SMB Lab will help her company's revenue grow to $50 million in the next five years.
W. P. Carey is pioneering a program to give Arizona's small and medium-sized businesses (SMB) access to the resources they need to thrive. The SMB Lab is a first-of-its-kind initiative designed to connect Arizona's SMB community with faculty and students, business leaders, and development professionals. Read about the SMB Lab's origin here.
Tracey Latham is the founder and CEO of Latham Industries, a woman-owned electronics manufacturer based in Phoenix specializing in printed circuit board assembly. Her company serves multiple industries, including aerospace, medical, military, and security. Latham was named the SBA Arizona Small Business Person of the Year in 2022. She says the SMB Lab gave her the tools she needs to meet her five-year goal of $50 million in revenue.
Question: How did you get involved with the SMB Lab?
Answer: I was introduced to Hitendra Chaturvedi [supply chain management professor of practice and SMB Lab-co-founder], and he explained the lab and how ASU wants to help smaller businesses. He said to bring in anything we're struggling with, and they would bring in students, faculty, and experts from the industry to help solve our problems.
Q: What did the lab process look like?
A: Before the lab, some of the participants came and visited [Latham Industries], and then they put a whole packet together for us so everybody could come to the lab prepared. , I gave an overview and some of our issues, then we broke into groups, and everyone came back with recommendations. That brought a lot of value to the lab because everything was so well organized, and it didn't feel like we were bouncing around.
Q: What issues did you discuss?
A: Problem No. 1 is I wear all the hats. It's not healthy for me and or the company. Then there is our stockroom area. It's messy, and we're spending too much time looking for parts that are not in the right packaging. Another issue is that we're using a system that got us to the next level, but it's not growing with us and is causing havoc. So, we have a new enterprise resource system, but how do we implement it? And, finally, what is our strategy to grow? We plan to grow $50 million in the next five years. How will we get there?
Q: What solutions were presented, and what are their outcomes?
A:The students are going to do two capstone projects. They're going to help me set up a proper stockroom and packaging. Then, we're doing a soup-to-nuts look at my processes to create a standard operating procedure. And we're considering what I need to do to get to $50 million in the next five years. The lab gives us access to the analytical tools we need, which we wouldn't have otherwise. It helps give us a clear vision and alleviates some of our fears.
The value this will bring us is priceless. It gives us different perspectives and permanent tools to help us on our journey. The ASU ecosystem is helping implement all of this and execute the plan. It's not just throwing out a bunch of ideas and then leaving. We're working together as a team to make it happen.
Q: Why is the SMB Lab such a unique resource?
A: One key thing is that there is no cost to it. Because when you're little, every dollar feels like a million. I've gone through programs where I sit and listen to advice, and when you leave, they give you a little bit of information and say, 'That'll be $5,000, please.'
Yet, it's not a handout. It's a 'hand up' to get to the next level. And the benefit is mutual. We get to meet everyone and better understand what resources ASU can offer. The students get real-life experience. Sitting in a classroom and reading a book is one thing, but when you get into the real world, it's very different. It's also good for the professors to get out and see what's changed because things have changed rapidly.
Most of all, you're building relationships. You've got someone you can call and talk to. There was a gentleman at the lab from a different industry, but he's like, 'Trace, if you ever just need to talk or bounce something off someone, I'm here.' You're building camaraderie and connections with people. I'm very excited and hope I get the opportunity to go back and sit in someone else's session to help in return and pay it forward.
Q: What advice do you have for future participants?
A: People need to learn it's OK to ask for help. It's critical for any new business owner, and you find out that other people are going through the same things as you. You also must leave your ego behind because you have to be able to hear other people's perspectives and look closely at yourself. You can't be defensive. People aren't trying to tear you down; they're trying to build you up. 'What can we do to help you, support you, and get you to the next level?' And that's such an amazing feeling. Everyone was so sincere about it.