Meet the experts 'growing' small and medium-sized businesses in a lab
The SMB Lab is a first-of-its-kind initiative connecting Arizona's small and medium-sized businesses with the resources they need to thrive.
W. P. Carey is pioneering a program to build an ecosystem around Arizona's small and medium-sized businesses (SMB). The SMB Lab connects Arizona's SMB community with ASU's faculty and students, business leaders, and development professionals. This is the first of a series of stories about the lab and its successes.
Small and medium-sized businesses form over 95% of companies and generate over 60% of the jobs in Arizona. Gopalakrishnan Mohan, senior associate dean of faculty, calls SMBs "the engine of the economy." When SMBs were being hit hard during the pandemic, he says, it became clear that they needed a lifeline.
"With a large university like us, engaging with large businesses comes easily because they recruit our students, and it becomes natural," he says. "You have to engage with small and medium businesses more deliberately. When they were struggling during COVID-19, we said, 'How do we engage with them?'"
Mohan and Hitendra Chaturvedi, supply chain management professors of practice, identified a problem: There was no clear way for SMBs to connect to ASU, and they were missing out on critical resources the university could provide. Chaturvedi contacted 30 local SMBs to ask how ASU could help them.
"It was an eye-opener," he says. "One of the biggest things we heard was, 'We have major problems, and right now, we can't pay for an expensive consulting company to come in. We would love to brainstorm with some of your faculty."
From their responses, the idea for the SMB Lab was created. Chaturvedi formed a plan with a founding team — including partners from Corporate Affairs, Community Entrepreneurship, and Government and Community Engagement.
"Let's bring in a company. Let's bring in a few faculty, students, and industry experts. And then let's have that problem solved. And let's not only pontificate. Let's give them advice, yes, but then let's help them with execution."
Initial session
In March 2022, around 30 participants gathered for a beta session for the lab. They included eight SMBs, representatives from the cities of Phoenix and Peoria, Southwest Valley Chamber of Commerce members, and ASU students and faculty members.
Brandon Clark, a sustainability manager at United Arizona Dairymen of Arizona, offered up his organization's issue — a lack of refrigerated storage. Clark says he was surprised by the targeted solutions the lab's participants offered after a brainstorming session.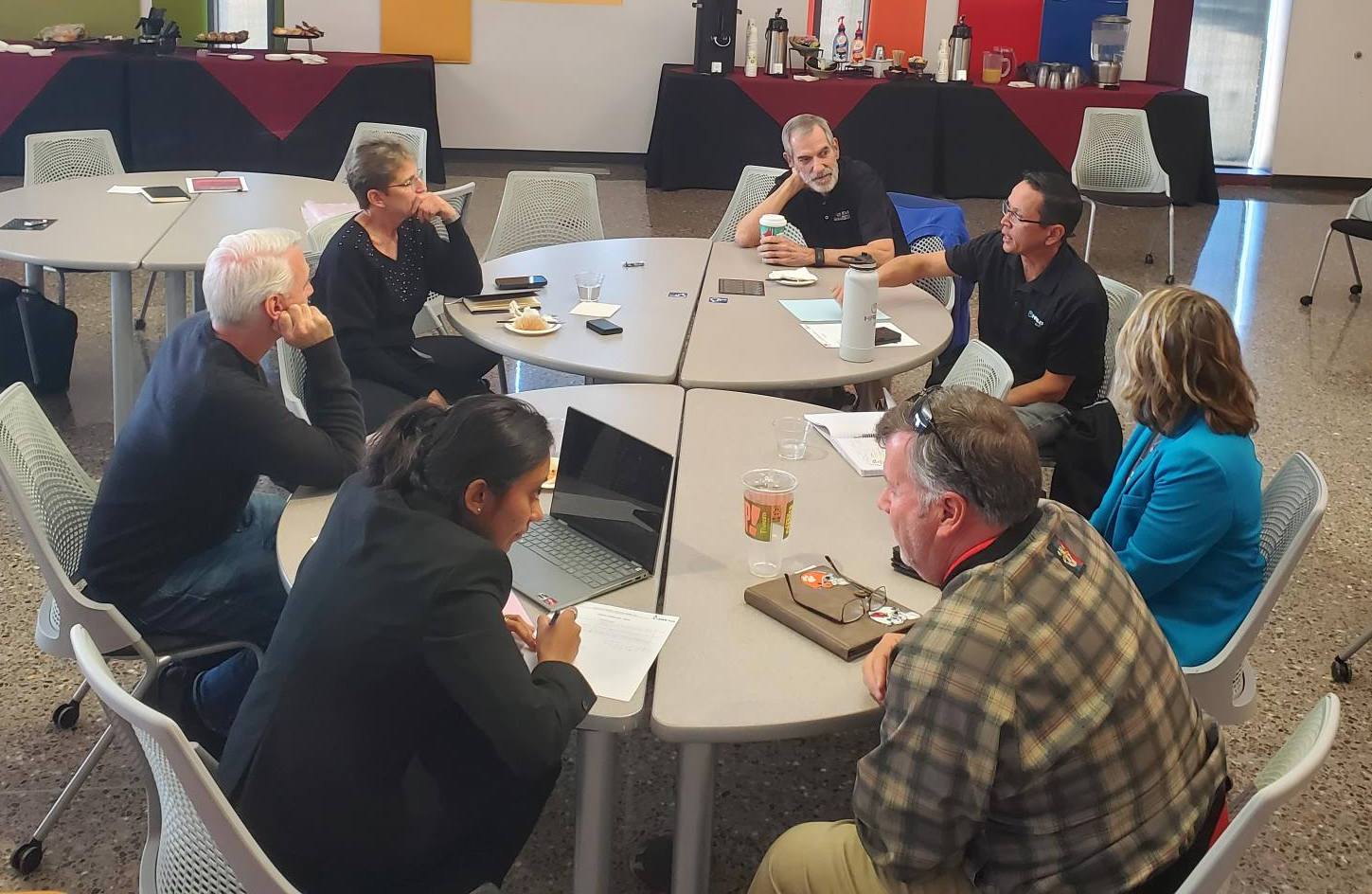 "Bringing in that collective knowledge from various backgrounds and organizations, you can come to a pinpointed solution regardless of the industry," Clark says. "The other attendees were not even remotely close to our organization and what we're doing, and yet they could still drive unique and specific solutions."
The emphatic feedback from the session's participants was to keep the lab going — the real solutions it could provide to SMBs were critical. Plans were made for additional sessions later that year, each utilizing a 'SWAT' team of industry experts, ASU students and faculty, and city officials. By the start of 2023, the SMB Lab was on its way to becoming a well-oiled machine.
Early successes
In December 2022, the SMB Lab convened around Tracey Latham, founder, and CEO of Latham Industries, a woman-owned electronics manufacturer based in Phoenix. By the end of her three-hour session, Latham had proposals with solutions to her problems, a team to help implement them, and a sense that she was no longer alone.
"It was wonderful," she says. "When you are a small business, you don't know all the resources out there. You don't know who can connect you to things. Most of the time, you feel like you're by yourself."
Kristin Slice is the director of Community Entrepreneurship for Edson E+I, a member of the SMB Lab's founding team, and the facilitator for each session. She says Latham's experience reflects the importance of community building for business leaders.
"Research shows that one of the most powerful ways we can support small business owners and entrepreneurs is by providing them with connections," she says. "Tracey has a thriving business, but she lacks peers. Connecting her with other peers and resources in her path is a small but valuable win, and her experience will continue to serve her in the long term."
Mutual benefits
While the value of the SMB Lab to business owners may be evident — a free forum where they can connect to diverse perspectives, experienced leaders, and a larger community — they are not the only ones benefitting from the experience.
Several ASU students are gaining hands-on experience working on projects for lab participants. Meghana Sridhar (MS Business Analytics '23) is leading a graduate student team devoted to making process improvements for Latham Industries and earning their Lean Six Sigma certifications in the process. She found value in the connections she formed at the lab.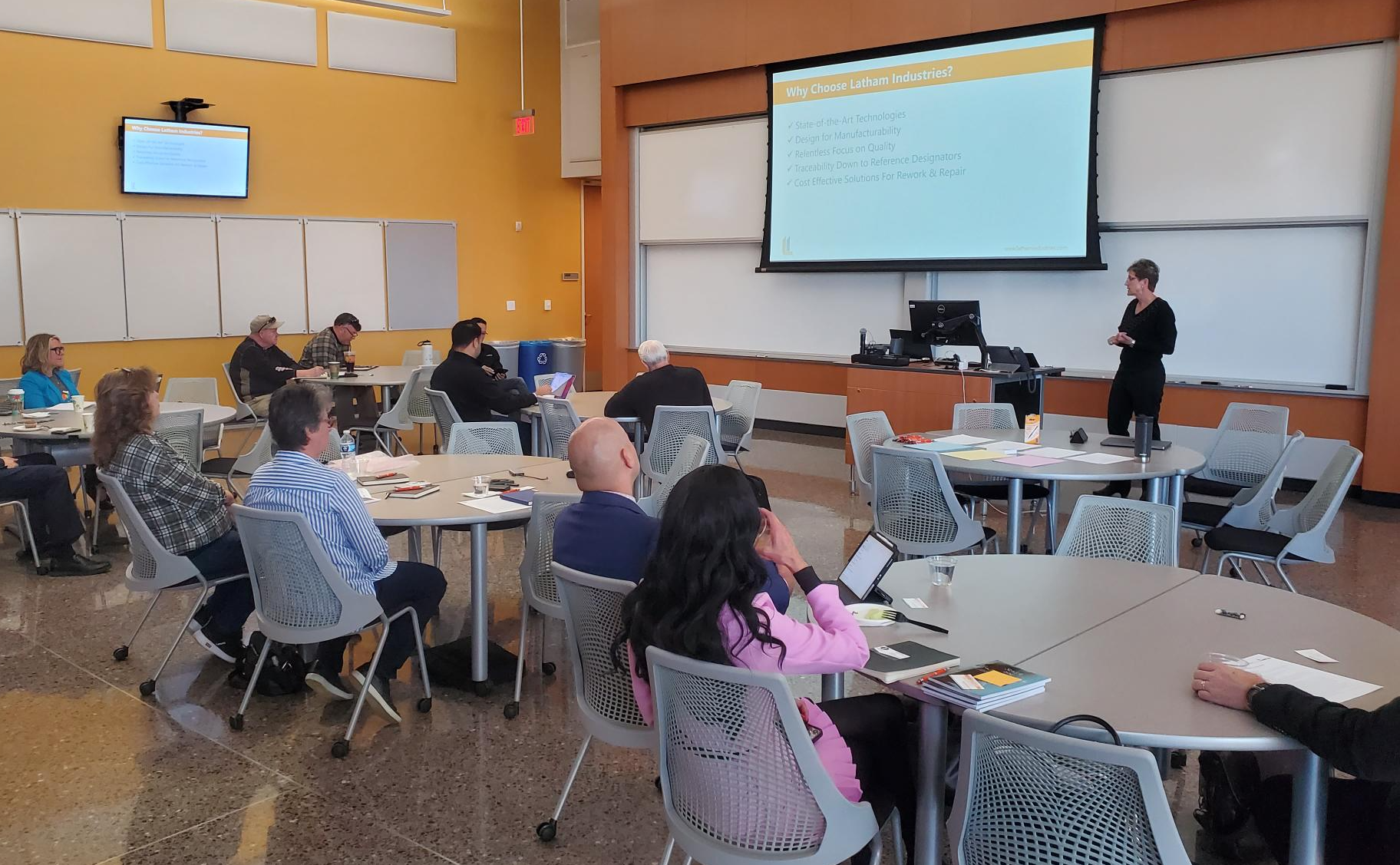 "There were industry experts and leaders from government and top companies," she says. "It was good to network with local folks because, outside of college and career fairs, we don't have a chance to do that."
ASU benefits from the data gathered from each lab, which will be used to create case studies. Chaturvedi says, while textbooks are full of case studies on large businesses, there is a need for case studies about SMBs. The university has an opportunity to become a hub for those seeking to learn about SMBs.
And, of course, the local business ecosystem benefits, as businesses grow and leaders connect and give back to others. Early in the lab's planning stages, Chaturvedi partnered with the Southwest Valley Chamber of Commerce, which provides a pipeline of businesses and connections to community leaders for the lab. Chairman Jeffrey Garza Walker is planning an awards ceremony to spotlight the lab's business-owner participants, who he says have been thrilled with their experiences.
"The CEOs feel the value that they got from going through the program was amazing and life-changing," Garza Walker says. "It's worked out, quite frankly, exactly how we thought it would, which is helping create a road map for these emerging companies to set their sights on becoming larger companies."
Moving forward
As the SMB Lab develops and grows, Mohan says he wants to see it become "a defining moment for ASU." The timing couldn't be better with upcoming changes to the local economy.
"They are saying, with the semiconductor industries expanding so big in Arizona, in another five years, Arizona is going to be called the Silicon Manufacturing Valley," he says. "You're going to see a lot of small and medium businesses grow, and we are ahead of the curve with helping them."
Chaturvedi agrees. He sees ASU's ongoing engagement with the local SMB community as building a platform that will eventually extend around the world. He would like to incorporate the data collected at the labs into textbooks, co-brand the SMB Lab framework, and partner with other universities to launch it globally.
"I have a vision of an SMB academy, with certification programs in a pathway leading to a degree," he says. "We can touch and train a billion learners across the world."
Top photo: SMB Lab co-founder, Hitendra Chaturvedi, supply chain management professor of practice