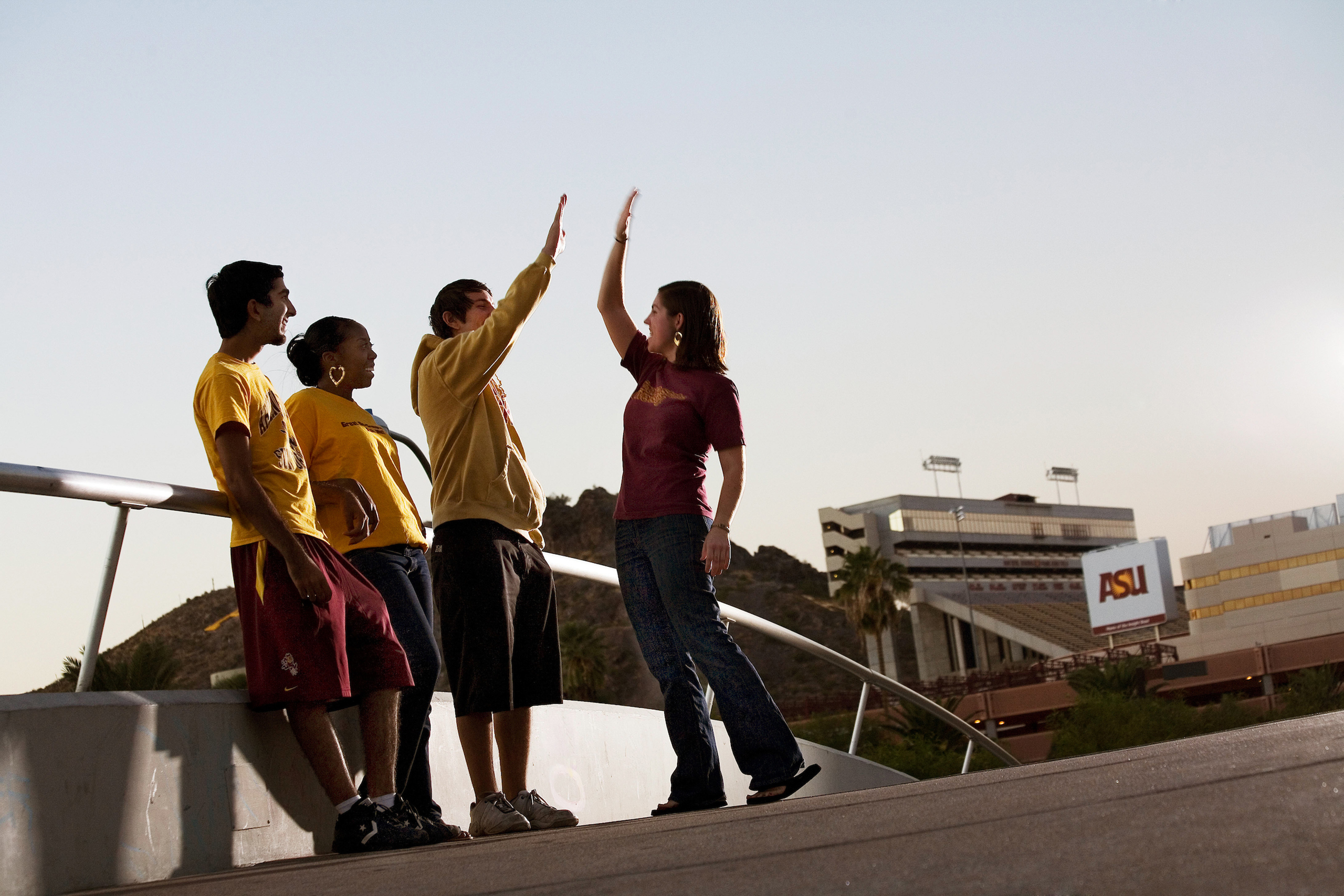 High-fives all around: Imagine Cup, professors' promotions, and NSF grant
Information systems students and faculty have been thriving this fall semester, receiving awards, promotions, and research grants.
By Jenny Keeler
Only half-way through the fall 2018 semester and information systems students and professors are in the headlines as award winners, for promotions, and for receiving research grants. Keep reading to learn how to celebrate with them.
Prometheus places in top 15 of Microsoft Imagine Cup World Finals
Information systems students traveled to Redmond, Washington, this summer to showcase their technical innovation and compete for up to $100,000, as well as a mentoring session with Microsoft CEO Satya Nadella, at the Microsoft Imagine Cup World Finals held in July. They placed within the top 15 teams.
Recent Master of Science in Business Analytics (MS‑BA) graduates, Facundo Santiago and Murong He, and PhD student David Azcona entered their invention, Prometheus, a wildfire detection system, in the competition. In addition to making it to the semifinals, the team was recognized for their utilization of artificial intelligence.
"It went really well for us," Santiago says. "Our team managed to get to the semifinals among the top 15 teams, and we were placed among the top six teams in the best use of AI."
Their project combines artificial intelligence and concepts of deep learning with surveillance drones to create an early-stage wildfire detection system. The team placed fourth in the U.S. Imagine Cup finals and earned the Judges' Artificial Intelligence & Machine Learning Award — for a total of $5,000 in prize money.
The Imagine Cup is Microsoft's premier, international competition that gathers tens of thousands of students from around the world to show off their tech inventions. The goal is to encourage students to use their creativity, passion, and technology skills to break new ground, solve problems facing the world today, and potentially turn their idea into a business. The top three winning teams were from Canada, Greece, and Japan. Their inventions ranged from a robotic hand prosthetic, a technology that deciphers a baby's cries, and a high-tech software for hearing-impaired people.
After graduation, Santiago returned to Argentina, his home country, and is now working on entering Prometheus in a competition that looks for and accelerates projects aimed at addressing natural disasters.
Moving up the academic ladder
Information systems professors are advancing and moving forward in the classroom and in their research work. Associate professors Yili (Kevin) Hong and Sang-Pil Han were awarded tenure. Pei-yu Chen was promoted from associate professor, with tenure, to full professor. All three professors have had their research work published in prestigious information systems journals, such as Information Systems Research, Management Science, and MIS Quarterly.
Hong studies the sharing economy, online platforms, and user-generated content. Han's interests lie in investigating economic and societal impacts of technologies, specifically mobile technologies. Chen's research focuses on data analytics and IT-enabled strategies, in areas such as e-commerce, digital economy, and health care.
NSF grant funds student's doctoral study
The gender wage gap — women getting paid less than men for the same work — has long been recognized. But how and why would that gap still exist in an online gig economy where workers are hired on a contract basis?
Fourth-year PhD student Chen Liang has devoted her doctoral dissertation to find out. Her hard work and discoveries on this topic have earned her a grant from the National Science Foundation. The $15,900 grant will allow Liang to further her research work, while providing funding for data collection, the implementation of experiments, and to travel to several conferences.
In the traditional work environment, the gender wage gap has been attributed to women's preference for job flexibility and the "motherhood penalty," which is an idea that mothers are viewed as less competent, less committed and, therefore, receive lower salaries. In an online gig economy where those ideas aren't readily applicable, Liang says the gender wage gap still exists. Her research points to differences in job application strategies between men and women as the answer. 
Liang says she also will conduct related studies to deepen her understanding of the gender wage gap. She hopes the research will provide useful information and strategies for job seekers, as well as influence public policy.
"Getting this grant per se also gives us encouragement and indicates the importance and potential impact of our research," Liang says. "We will keep working — onward and upward!"
Associate Professor Yili (Kevin) Hong and Professor Bin Gu assisted with the dissertation study as the co-chairs.
The team also was recently awarded a grant from the NET Institute to continue their work on several studies related to the gig economy. The NET Institute — NET stands for networks, electronic commerce, and telecommunications — is a non-profit organization committed to studies on those topics. The institute funds research work all around the world, making these grants extremely competitive, Hong says. This is the team's third consecutive year receiving the award.