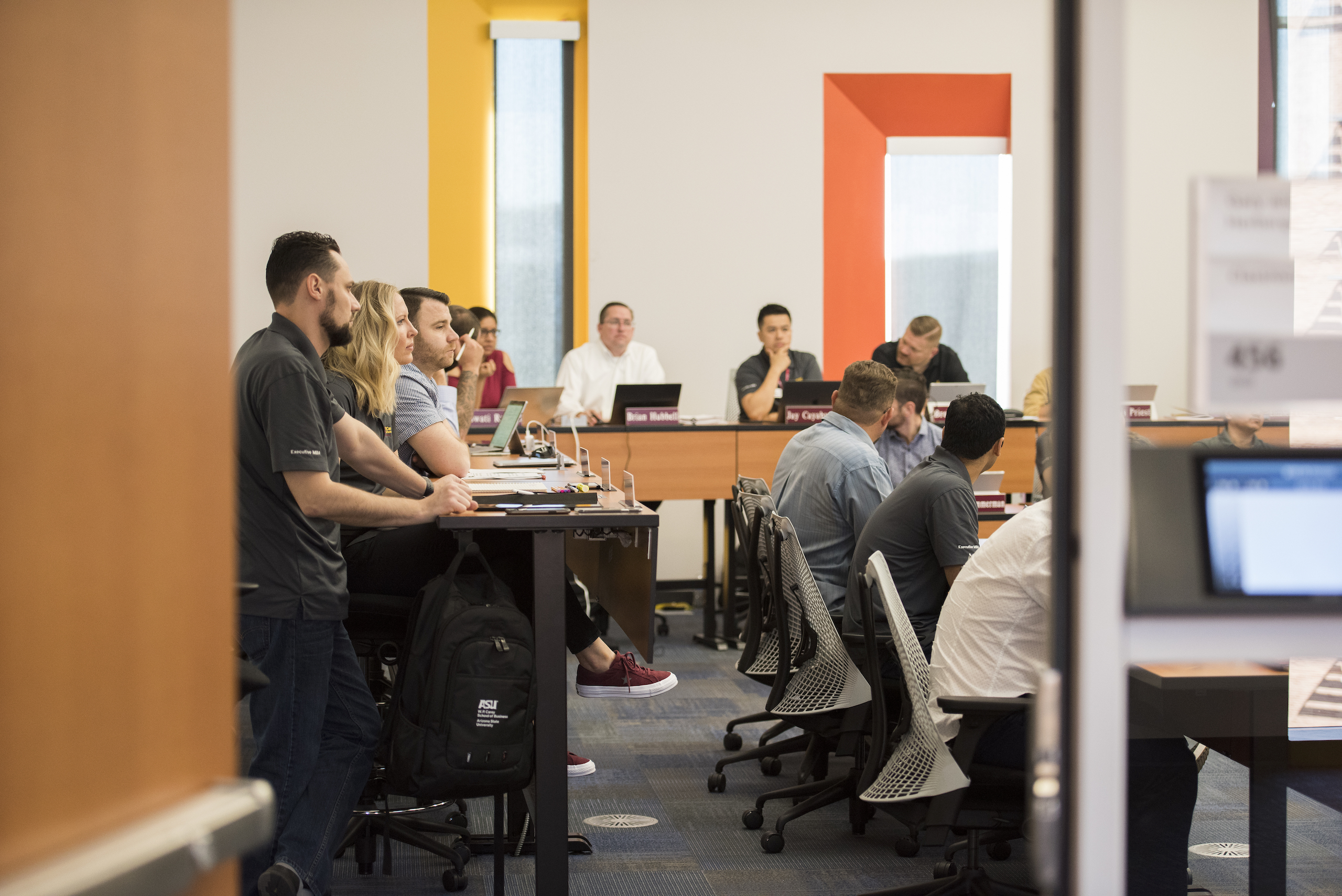 W. P. Carey welcomes four assistant professors of information systems
The research endeavors of the information systems department at W. P. Carey just got a boost from the addition of four new assistant professors.
By Jenny Keeler
The research endeavors of the information systems department at W. P. Carey just got a boost from the addition of four new assistant professors.
"They'll bring new skills and ideas, and will help us push research forward," says Professor and the new Chair of Information Systems Pei-yu Chen.
These new faculty members are on a tenure track, as opposed to clinical faculty who are on fixed-time contracts. Tenure-track faculty are expected to make significant contributions to the department's research efforts, Chen says.
Here's a look at the experiences and research interests of the newest faculty members.
Reihane Boghrati
Undergrads are like blank canvases, ready to be impressed upon — at least that's how Reihane Boghrati sees it. You can inspire their interest, or not. That responsibility is nerve-wracking and exciting, she says.
Boghrati is a new assistant professor in the information systems department. She'll teach undergrad business database systems development courses in the spring. She'll also focus on her ongoing research projects. Her research interests lie in the application of machine learning and natural-language processing in the business world and to solve business problems.
My passion is studying the application of technology and computer science in real-world and business problems.
In her most recent research work, Boghrati is studying the theme of ethical artificial intelligence (AI) in business. She's using AI to analyze gender biases and discrimination in cultural products, such as home loans. In one paper, Boghrati and her team looked at data collected from home loans from the past 50 years and implemented a machine-learning model to search for and amplify biases. Now they're discussing different ways to reduce those built-in biases.
Boghrati has traveled a long way to get to ASU. She's originally from Qaen, a small town in eastern Iran. She came to the U.S. to pursue a PhD at the University of Southern California, then was most recently a postdoctoral researcher at the Wharton School of Business at the University of Pennsylvania. Boghrati just celebrated her eighth anniversary in the U.S. She received citizenship through a program that awards students based on degrees earned, research productivity, and citations received.
Outside work, Boghrati enjoys baking — she's trying to master the macaron — and reading fiction novels. Harry Potter is still her favorite.
Tongxin Zhou
When it comes to research, Tongxin Zhou has a passion for putting AI to work in the health care industry. Her research interests broadly cover the application of AI in health care, health IT and analytics, and the transformational impact of IT on human behaviors.
"In my research, I am currently working on several projects related to user engagement in online health care communities, such as their dynamic participation patterns in self-monitoring and behavior interventions, their learning behaviors in personal health management, and personalized health care recommendation systems," says Zhou.
In several studies, including "Turn Your Engagement in Online Weight Management from Zero to Hero," Zhou and her team look at how patients and physicians interact with online health care systems and are examining how to make those systems more effective.
Zhou will be joining the information systems department as an assistant professor this semester. In addition to her research efforts, she'll be teaching undergraduate courses. She says she's looking forward to the opportunities for collaboration with faculty and students.
I enjoy working with students — in both research and teaching — as it is an exciting opportunity to share my knowledge and to learn and grow with brilliant minds.
Before coming to W. P. Carey, Zhou earned her doctorate degree at Michael G. Foster School of Business at the University of Washington. She studied statistics and obtained a bachelor's degree in science at Shanghai University of Finance and Economics in her home country of China.
Outside of work, Zhou enjoys seeing the world around her. Her hobbies include sightseeing, hiking, and kayaking.
Tan Lekwijit
In his first academic appointment, Tan Lekwijit will be a new assistant professor in the information systems department. But Lekwijit is no stranger to teaching. He has taught MBA, undergrad, and high school students for many years as a graduate student at the Wharton School of Business in Pennsylvania.
Lekwijit will be teaching an introduction to business data analytics at the undergraduate level.
"I love getting to know students from different backgrounds and can't wait to interact with and learn about students at W.P. Carey," he says.
It is always fascinating to teach a group of young people who have diverse life experiences and different life goals and values.
Lekwijit's research interests are in health care information technology and health care operations. His primary research goal is to understand how health care providers can leverage IT to make operational improvements and ultimately achieve better health outcomes.
Many faculty members in the IS department share Lekwijit's passion for health care technology systems. He's looking forward to learning from and collaborating with them.
Lekwijit is a fierce supporter of diversity and inclusion. He's an LGBTQ+ advocate and is working to create an inclusive and welcoming environment for everyone in academia, especially in the STEM community where LGBTQ+ individuals are underrepresented.
In his free time, Lekwijit enjoys traveling. He's hiked through many of the national parks and has a goal of visiting all of them in his lifetime.
Kyuhan Lee
Kyuhan Lee is tackling the problem of false information and hate speech online. He's developed cutting-edge, deep-learning approaches for the automated detection of these kinds of posts. During his time at the University of Arizona, Lee and his research group, INSITE, worked with industries and government agencies to help solve these types of problems.
Lee is joining the W. P. Carey information systems department as an assistant professor this fall and will continue his research endeavors, as well as teach IS courses. This will be Lee's first academic appointment and he's looking forward to the motivation that comes from working with enthusiastic, curious students.
"W. P. Carey has been constantly ranked as one of the most prominent universities within the U.S. This implies that the college has researchers and students with excellence in many areas," he says. "I'm looking forward to communicating, working with, and learning from them."
Lee holds a long list of awards, accolades, and scholarships, many from Seoul National University in South Korea where he is originally from.
In his new role at W. P. Carey, Lee will focus on conducting high-quality research and aims to prepare students to become business leaders all around the world.
It is always refreshing to interact with students that have different backgrounds. They always bring me new ideas and perspectives.
Lee calls himself a soccer fanatic. He's had two knee surgeries due to injuries he's gotten on the soccer field — but he still plays.
Department of IS faculty ranks in the top 10 for research productivities for publications in the top IS journals. Together with W. P. Carey faculty, the business school faculty are among the top in research productivity and impact worldwide, serving as consultants to more than 300 companies and government agencies. They also contribute to and edit prestigious academic journals, and are sought out as experts in their fields by local and national media outlets.
Explore our directory and key research areas to learn more about the Department of Information Systems faculty and their work.