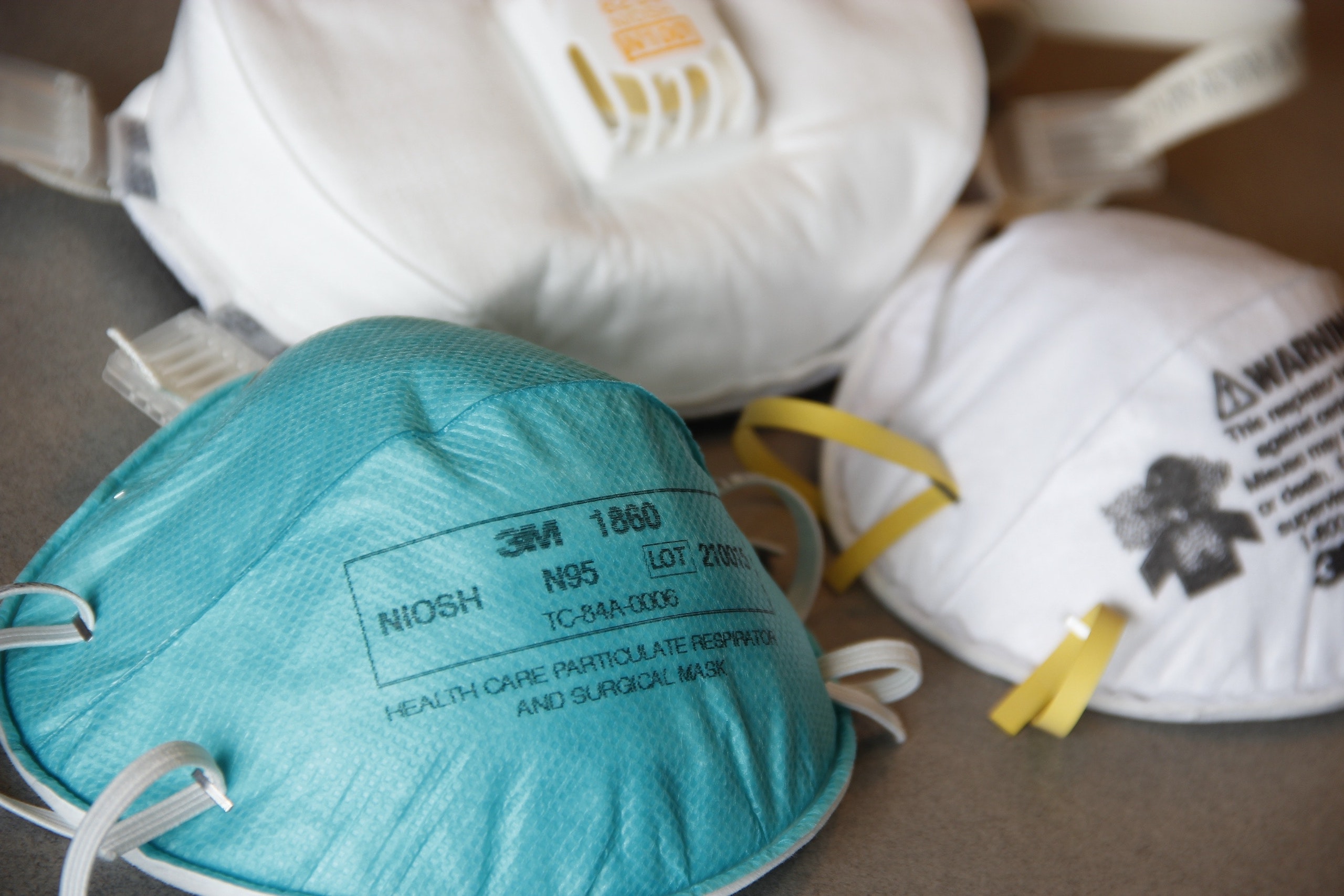 The case for a just-in-case medical supply chain stash
Professor of Supply Chain Management Eugene Schneller, along with other supply chain colleagues, examined the shortfalls of the COVID-19 response and offer a model for building a more efficient medical supply chain reserve in their new research.
By Sally J. Clasen
COVID-19 seemingly came out of nowhere in 2020 and left an instant imprint with devastating effects that linger sharply today.
As coronavirus swept the world, Americans often heard the term stockpile bandied about by politicians and supply chain spokespeople, which referred to an important reserve of medical resources managed by the government and distributed during public health crises, including hurricanes and other national emergency disasters.
Yet, while the pandemic — a new kind of storm — played out, the Strategic National Stockpile's (SNS's) strength came into serious question, particularly in terms of the availability of lifesaving supplies such as personal protective equipment (PPE) and ventilators as hospitals and health organizations across the country struggled to get the essential safety products to protect front-line workers, patients, and the community.
Why did the SNS fail to deliver during the COVID-19 pandemic and what would make it more infallible in the wake of another pandemic?
The perfect storm
Professor of Supply Chain Management Eugene Schneller, along with other supply chain colleagues, examined the shortfalls of the COVID-19 response and offer a model for building a more efficient medical supply chain reserve in their research paper, "A Commons for a Supply Chain in the Post‐COVID‐19 Era: The Case for a Reformed Strategic National Stockpile."
"When COVID-19 came about, there was quick recognition there were large shortages of many important products, not just in health care. We've had other disruptions such as Hurricane Maria, which wiped out medical suppliers in Puerto Rico and it took a long time for those to come back. And in many ways, SNS wasn't prepared in that instance either," explains Schneller.
While their research addresses disruptions in the health care industry, Schneller points out government reserve planning, in general, hasn't taken into account the long haul. "With COVID-19, much of what we had done in prep was around the short game and somewhat about the medium game but no one thought about the long game, he says." COVID-19 had so many uncertainties. There was uncertainty about the depth, the breadth, and the shape of the recovery — and even uncertainty if there would be multiple surges and recoveries. "Nobody was thinking in a strategic manner about it," Schneller adds. "Not government, not group purchasing organizations [GPOs] that source for hospitals, not distributors, nor hospital systems."
But despite appearing as an unpredictable catastrophe that came out of the blue, Schneller and his co-researchers believed challenges with the national stockpile were inevitable.
"When COVID-19 happened, many people thought this was unusual — a 'black swan' event," says Schneller. "But we didn't think it was, as assessments, over many years, were critical of the SNS and questioned its effectiveness. Our research team was not surprised that it failed early and didn't work well. We wanted to provide some insight on how to deal with disruption. COVID-19 was global and it hit many products around the world. We wanted to examine the role of government and learn how to achieve a level of supply chain maturity if this situation happens again."
The researchers analyzed existing stockpile literature, interviewed experts, and studied the processes of government supply contingency-planning organizations to evaluate the gaps that currently exist in the supply chain structure.
"It's not a light switch that can be turned on and off," says Schneller of managing and mitigating the risks of stockpile reserves in the face of disruption.
It needs to be a much more complex response that goes beyond a lack of PPE and single supply item/material issues and one that delves deeper into the supply chain, both domestically and globally. We need to think in different dimensions.
A long game for the common good
Instead of the conventional stockpile mentality, Schneller and his colleagues argue, the United States should adopt a "commons-based" strategy, a coordinated network of repositories, fluid inventories, and analytic monitoring that will meet the demands and help avoid hoarding and other unsavory behaviors witnessed during COVID-19.
The researchers developed a hub-and-spoke stockpile system they call the National Contingency Supply Chain Cell, which relies on leadership that isn't solely overseen by Congress but an infrastructure of states and public health organizations, as well as with communities and providers of care, that are working toward a united front to respond to disruptive forces such as a pandemic.
The first, important step for the government is to recognize it can't solve all the problems; however, it's the significant link in creating a vital stockpile for the future, according to Schneller. "Government has a strong role in this, they are the orchestrator. The government also has to conduct detection and protection, and scale the environment so they know what's happening in markets," he says.
The renewed strategic stockpile model Schneller and his research colleagues devised includes a framework of response that's flexible, traceable and transparent, persistent and responsive, globally independent, and equitable — and one that can be managed collaboratively long term. "We need to manage strategic products differently than we do other items," he says. "About 20 common items across health care were scarce during COVID-19. In our paper, we look at common solutions and how a community can come together to develop a strong stockpile.
"Right now, it's every hospital for itself with a great reliance on group purchasing. Hospitals, as part of a large system, have become islands onto themselves, looking inwardly, competing with each other, and not sharing information," Schneller continues. "We need to think very differently about common pool goods. During COVID-19, we didn't have tracking and tracing of second-tier and third-tier suppliers. We need a system that is much more flexible and traceable of products, not just in terms of who sold them to you but to monitor disruptions to understand what's coming. We also need visibility. We didn't know how much reserve was in the community., ."
While there's been some discussion of legislation to repair the national stockpile and bolster its resources, Schneller suggests resilience doesn't equal inventory. He says it's not just about getting more stuff, which is a short- to medium-range goal, but understanding and managing a whole set of complexities around products.
"Merely refreshing the SNS doesn't get at the sustainability strategies. One needs to stay in this for a good deal of time. If we are going to have reserves and a more bulletproof supply chain, there are going to be costs associated with that," he says. And there are no guarantees that the products needed during COVID-19 are the products we will need for a different kind of disruption.
"If we are going to get manufacturers to be on standby, they need to be effective quickly. Another discussion needs to be about how we go about financing the resiliency of manufacturing and others in the industries," Schneller explains.
Hospitals, GPOs, and distributors are just beginning to understand that focusing on long-game resiliency does not have to hurt their bottom line.
Despite the stockpile's failure to deliver, Schneller points out that there was a significant amount of innovation that developed due to fractures in COVID-19's supply chain response. "Banner Health, for example, went from using paper gowns to cloth gowns. They had to think about costs and manage demand, particularly surge demand," he says. "And ASU set up its COVID-19 testing lab and evolved from using nasal swabs to saliva samples when there was a swab shortage. ASU students created a network of 3D printers to craft face shields. Amazingly, large companies, such as GM and Ford, with their great supply chain capability, were able to utilize their manufacturing knowledge to make critical care ventilators.
"It was the perfect storm," Schneller continues. "Over the past two decades, hospitals went to a just-in-time strategy instead of just-in-case, and outsourced much sourcing and contracting for products to intermediaries. And the many mergers and acquisitions across the nation have resulted in fewer hospital beds in the U.S. The system performed perfectly and did what it was designed to do. Everyday supply chain design wasn't robust enough to deal with a global pandemic." An important role for ASU, with its strong supply chain faculty, is to provide research and guidance around best practices.
Read other perspectives on supply chain
Disruptions from COVID-19 put supply chains front and center in the minds of business leaders and consumers alike. Suddenly, everyone is asking: How reliable is our supply chain? What do we need to strengthen it? And why are everyday goods in short supply? With so much attention focused on supply chains, see the numbers that can help explain some of the people and processes that produce and distribute products.