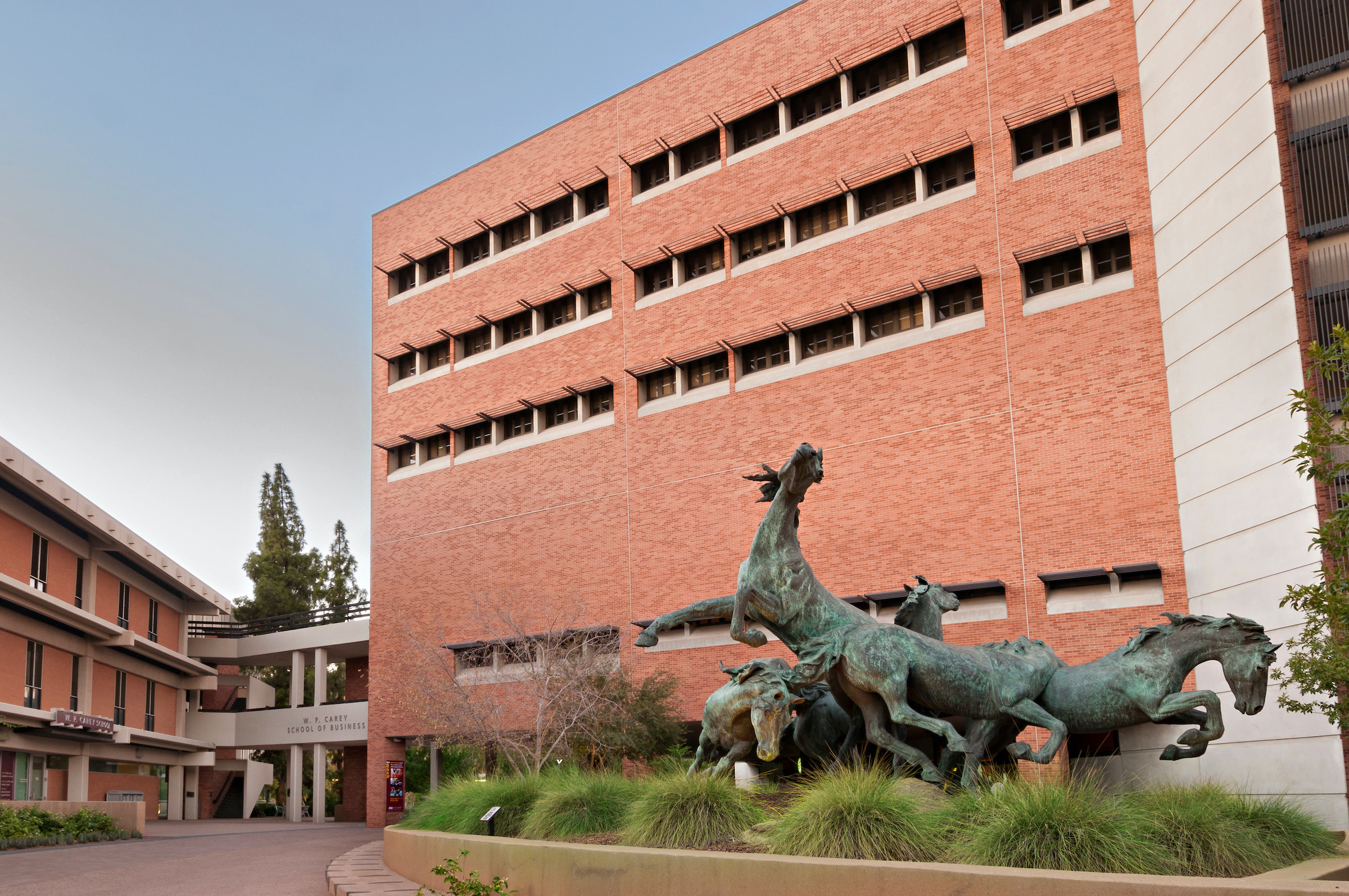 What a return to campus reflects
A lot has been accomplished in the Department of Information Systems over the past few years despite the pandemic. We've been back to class in person since fall and have successes to share about the partnerships we formed and community outreach we did to increase learner and workforce access to vital technology and analytics skills..
By Pei-Yu Chen, chair and professor of information systems; Earl and Gladys Davis Distinguished Research Professor in Business
Greetings! I hope this letter finds you healthy and enjoying the spring semester.
In the fall, we welcomed students back on campus. Faculty and students were excited — though with some anxiety — to be back in person after more than a year of remote learning. While we're still exploring what the new normal will be like, students and faculty have expressed how appreciative they are to be back in the classrooms. It's incredible to witness how our community has worked together to bring back the in-person learning mode. I cannot be prouder of our faculty, staff, and students for their adaptiveness, thoughtfulness, and resilience.
As we take stock of the ways life has changed over the past two years, we are also taking time to celebrate the extensive accomplishments and progress we have made. In just the past two years, W. P. Carey's Department of Information Systems received more than $10 million in grants from the Department of Labor, National Institutes of Health, and other funding agencies and corporations, has placed in the Top 10 in U.S. News & World Report rankings for each of our degree programs, and welcomed four new assistant professors and six instructional faculty (each with 15-plus years of experience). The information systems (IS) faculty successfully published more than 60 articles, 37 in top-tier journals, from 2018 to the present, and is ranked No. 4 worldwide for research productivity in the top four journals in IS from 2016–2020.
That is just a sampling of the many stories we share on KnowIT.
Most of all, our department's commitment remains at the intersection of increasing learner and workforce access to vital technology and analytics skills while conducting cutting-edge research that pushes the knowledge frontier and solves significant real-world problems, as well as seeks meaningful engagement with society.
Here are some of the IS department's latest steps toward these commitments.
Nationwide-ASU partnership
We recently congratulated 31 Nationwide associates for completing our Professional Credential in Data Analytics program, which began on May 15, 2021, and concluded on Oct. 31, 2021. We thank Nationwide Insurance for its visionary partnership and thoughtful leadership to forge a new, innovative, and meaningful professional development opportunity for its associates through the sponsorship and delivery of the program.
In addition to sponsoring the closed cohort, a group of participating associates will go on to further apply their learning through a Nationwide-ASU-sponsored apprenticeship program made possible through a $2 million grant from the U.S. Department of Labor.
The program was comprised of a statistics refresher, a Python boot camp, and three courses that can be applied to the Online Master of Science in Business Analytics. Information Systems Lecturer Asish Satpathy led the program with weekly happy hours that included guest speakers from industry experts and W. P. Carey leadership. Course review was also part of the full learning experience for the three classes, including:

Business Data Visualization, developed and taught by Clinical Assistant Professor of Information Systems Tamunchin (Tam) McCreless
Business Data Mining, developed and taught by Satpathy and Clinical Assistant Professor of Information Systems Xiqing Sha
Big Data Analytics, developed and taught by Assistant Professor of Information Systems Victor Benjamin
We're happy to learn sentiments about the program from Nationwide associates who completed the courses, such as "challenging," "enlightening," and "engaging." This program wouldn't be a success without the commitment from Nationwide and all our devoted faculty: Asish Satpathy, Tam McCreless, Xiqing Sha, and Victor Benjamin. Plus, Raghu Santanam developed and led the arrangement of the program with our valued partners and Nationwide. Thank you all!
The Secret Code of Business
Our department's middle school outreach program, The Secret Code of Business, was held twice this semester. The goal of these workshops is to promote STEM education and help middle school kids visualize a successful future using the coding and business tools they learn.
Students represent the Department of Information Systems Club (DISC) at the W. P. Carey School of Business Involvement Week (I-Week).
On Oct. 16, we hosted Cartwright Elementary School District, and on Oct. 23, we hosted Glendale Elementary School District. Middle school students and teachers arrived on campus for a free, full-day college experience. In total, we welcomed 61 students and eight teachers from six different schools to The Secret Code of Business this semester. Our undergraduate students, majoring in computer information systems and business data analytics, facilitated these STEM workshops, which include many interactive activities and skill-building games.
The workshops begin with a campus tour of the W. P. Carey School of Business, followed by critical thinking riddles, an introduction to information systems vocabulary, and then a team research presentation.
The day continues with a focus on the first secret code of business — business data analytics. Middle school participants play animated data games where using graph and table data can help one find patterns and predict results for a winning strategy. During lunch, the sixth-, seventh-, and eighth-grade students get to learn all about cybersecurity and encryption using Caesar cipher wheels to decode secret messages.
The afternoon continues with a Q&A college panel discussion, so students can get their questions about ASU and college life answered from our DISC (Department of Information Systems Club) student leaders. Afterward, we reveal the second secret code of business — computer information systems. In this session, participants get an introduction to programming where they learn how to program a turtle race using Python and apply those same skills to program a drone's flight path. All participants take home a completion certificate, W. P. Carey swag, and coding workbooks, so they can continue to explore computer coding at home and at school.
The students shared with their teachers that "it was the best time ever and they want to come back again." These workshops not only ensure student access to education, but also fuel discovery, creativity, and innovation, and trigger an early passion for pursuing a STEM-related college degree and profession. They also provide an opportunity for our undergraduate students to gain valuable leadership skills and volunteer experiences.
We're grateful to be back in the classrooms and for all the successes we've celebrated over the past year and a half and semester. Here's to a happy holiday season and new year!
If you have any questions about our department, please reach out to me at Peiyu.Chen@asu.edu or learn more at wpcarey.asu.edu/information-systems.